A Georgia county has shut down all 11 public schools just over a week after classes began, amid a "sharp increase" in student coronavirus cases.
According to officials, schools in Ware County in southeastern Georgia are now closed until at least Aug. 27, and students won't be allowed back until Sept. 7 at the earliest. Schools will not offer virtual classes during that time, according to WSAV-TV.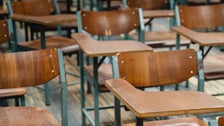 Four other small school districts in Georgia suspended in-person instruction earlier in the week, as COVID-19 cases among students soared. "Initially, we thought we were going to have a normal start," Ware County schools Superintendent Bert Smith told WJXT-4 TV.
He said the most significant problem quickly became staffing, as teachers had to split their time between in-person classes and virtual teaching for students in quarantine. "There's not enough time in the day," Smith said.
As for sick and at-risk children, "our nursing clinics are overwhelmed with kids having to quarantine," he said. "Right now, every day is a challenge."
As of Friday in Ware schools, 76 students had tested positive for COVID-19, and another 679 students were quarantined, out of a total of 5,900 students. Smith said 353 students were quarantined because of exposure outside of school, according to WJXT.