It's been just over a year since Walt Disney World reopened to visitors after its pandemic-induced shutdown, and people are indeed flocking to the iconic theme parks again.
But visitors to the so-called "Happiest Place on Earth" have made their fair share of mistakes during their stays ― and seasoned parkgoers certainly take note. We asked Disney Parks experts and fanatics to share some of the faux pas they've observed.
From poor planning to lousy food strategy, here are 15 mistakes people often make while visiting Walt Disney World ― and some advice for avoiding these errors during your travels.
Only Buying A Ticket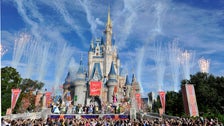 "As a frequent visitor to the parks and a specialized Disney travel agent, one of the biggest mistakes I have seen travelers make as of late is buying their Disney Parks tickets without confirming that the day they wish to go has park pass availability. Disney Parks is currently working on a park pass system, meaning if you don't have a valid ticket and a park pass for the park of your choice for the same day, you will not be able to enter the park." ― Victoria Wade, Disney travel agent, and content creator.
Not Downloading The 'My Disney Experience App
"The No. 1 tip that I have for anybody traveling down to Walt Disney World is to download the My Disney Experience app. This is your one-stop-shop for everything on your trip. You can check in to your hotel room, book your dining, check wait times for rides, get step-by-step directions on how to get from point A to point B (using all of Disney's free transportation), check park hours, showtimes, and SO much more!" ― Michael, creator of Michael Does Disney.
Paying For Water
"Paying for water is definitely a big one. I've made this mistake myself and always regret it. You can get free water throughout Disney property at various quick-service spots and save what you would've spent on water on an extra Disney treat!" ― Yeskel Larvenz, founder of Winter Garden Moms.
Thinking You Can See Everything In A Few Days
"Even the most seasoned Disney fans find new things each time they visit; there is no way to see it all in a week or less. That's the beauty of Walt Disney World, it's always changing, and there's something new to discover every time you visit." ― Francine, creator of Pixie Dust Fan.
Waiting In Line For Food